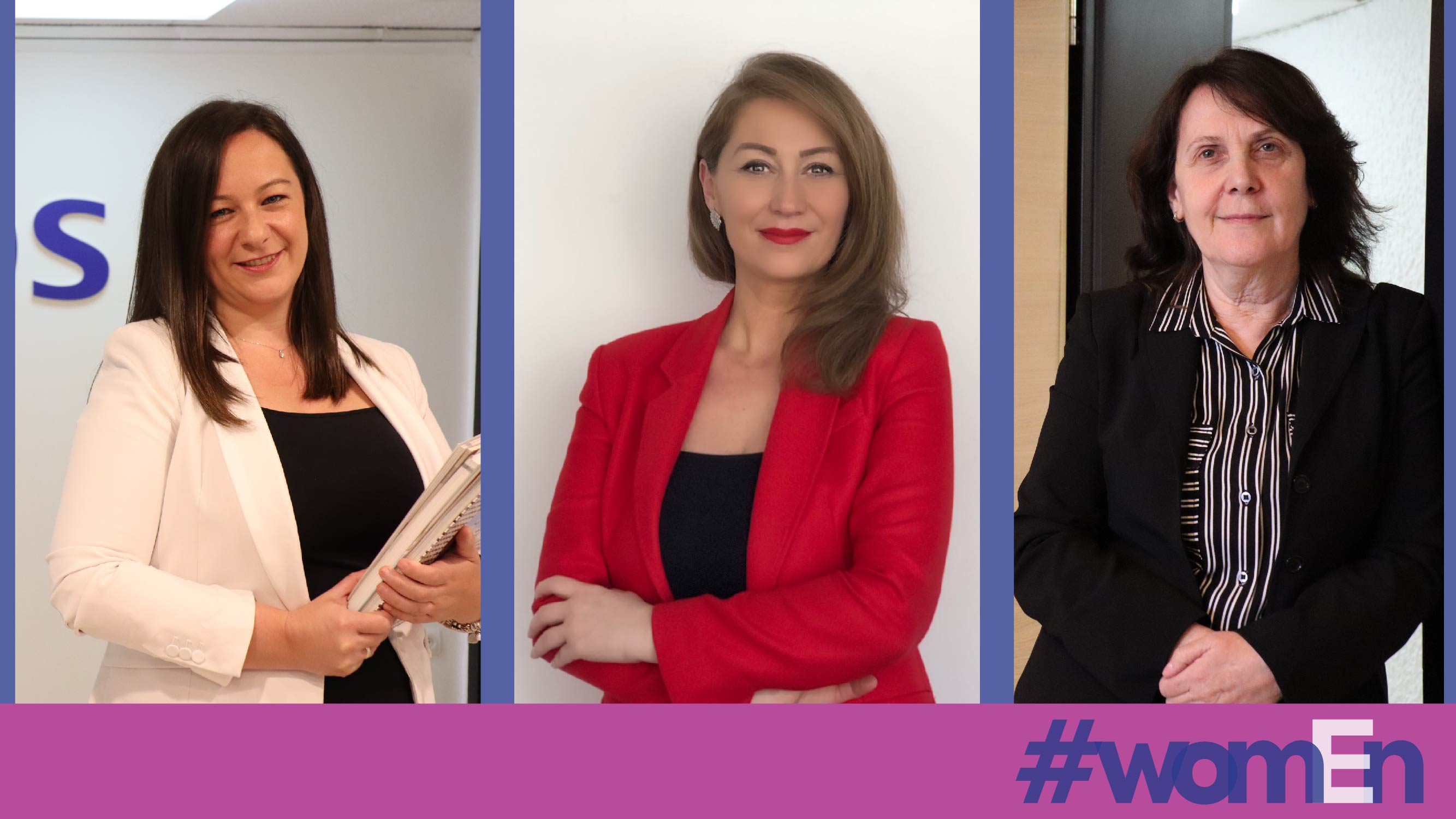 September 01, 2020
The Leading Women of KESCO
The very successful ladies, in charge of the most important departments of the company who have an extraordinary role in the success of the company, leaders who clearly compete with the opposite sex, are the women who broke the barriers and reached the peaks of success within KESCO.
---
Rudina Heroi is a successful woman, who is in charge of one of the most important departments of KESCO. "I joined this wonderful team of the company as a tariff specialist. After a 3-year period, I have risen to the position of head of the Department of Tariffs and Regulatory Affairs", she says. Rudina talked about her long journey, how she climbed the ladder in the career hierarchy.
Although my knowledge in the field of energy was limited, the wonderful team I was lucky enough to work with helped me quickly acquire this knowledge. The combination of previous experience and a cooperating, inspiring and insentive team were the biggest drivers that helped me for 3 years reach the position I am in today ,
she says.
When we talk about the energy sector, it is always thought of as a men's field, and how hard is it to be a woman working in an energy company?
The energy sector, unfortunately, is still dominated by men and I believe that this was and often continues to be a challenge for me as a woman, especially as a mother, where sometimes I have to sacrifice family time. And yet, I consider this challenge to be the greatest success, because achieving success in a male world is inspiring for generations to come, starting with my daughter, who must believe that work brings results and that there are still companies like ours which values the work above everything else," she said.
But what makes Rudina still part of KESCO?
Our company evaluates the work, offers opportunities and supports the employee. So, there is a genuine spirit of cooperation with a common goal, to constantly improve and contribute to the development of the country, she says.
Knowing that in our country women are disadvantaged, and the labor market does not reflect the same equality of career advancement, both men and women, Rudina gives an encouraging message to all. "Do not let them define you by gender, but by work. Optimism and positive energy are part of the job description. You can achieve it all," she concluded.
Our company values work, offers opportunities and supports the employee. So, there is a genuine spirit of cooperation with a common goal, to constantly improve and contribute to the development of the country
---
Iliriana Hajdari is an example of breaking the prejudice that women do not have the skills to be successful managers. She has a clear vision and knows what she wants, she has made many excellent decisions for the development of the company, which have paved the way for her to be the director of a very important department, such as that of Customer Care.
"I started working in 2014 as a Manager for Special Customers and Special Projects, and now I head the Department for Customers. The road so far has not been easy, given that the high level of leadership is still conceived as a monopoly of men. But the clear vision, mastery of work, optimism, strategy in thinking and acting, flexibility, determination and will to get things done, passion and ambition, obedience and dedication, have brought me up to here." she expressed.
Working in large companies is accompanied by great difficulties, but what has been the biggest challenge for Iliriana?
I have been promoted to the position and received the responsibility and reward that comes from them as well as a wide range of opportunities to gain new skills, experiences and cooperations, but along with these many challenges also, which are characterized by decision-making under the pressure of time and risk, since we are dealing directly with consumers, and at the same time I had to encourage colleagues, in order to achieve the best possible results for both us and the citizens. In these moments you have to be strong with the results, but gentle with the people," she says. But what does Iliriana consider her greatest achievement in the position of director for customers?
As the biggest success I can consider reducing customer complaints by almost 70 percent, which proves our good teamwork and commitment to the customer
says Iliriana.
Why she still continues to be part of KESCO?
We in Kosovo still have many problems, but in our company we have made very big steps in this direction. "There is a healthy gender equality that promotes and encourages women to develop professionally, so I continue to be part of KESCO," she said.
When we see these successful leaders, we learn that we need to work harder to bring more women into these positions. But what is the way to get here?
It is very difficult to reach the top, but it is even more difficult to maintain that position. But once you find your focus, have consistency and ambition, and by not allowing fear to be a factor in making decisions, you will be confident on the path to success. Therefore, never give up!
she messages to all women and girls.
---
Behije Ahmeti is one of the most experienced women in the energy sector, she heads one of the most important departments, that of Electricity trading, and as she put it, great dedication and willingness to work, are the main factors that she holds this position today.
Mrs. Ahmeti speaks about the work and the biggest difficulties, which were mainly during the beginning of her work."In the begining it was difficult. The war had just ended and the energy facilities we found were not in good condition. Generation units fell out of operation without any planning, while automatically deteriorating electricity supply. Hovewer, these challenges were overcome thanks to the good team work and efficiency at work", says Mrs. Ahmeti.
But, why she is continuing to work in the energy sector even after so many years?
I like the nature of such work. I conduct customer service with great desire", she adds. Having such a great experience, including leadership, she evaluates that women are more dedicated and more accurate, in every aspect.
Women are more free of corruption, more committed, more accurate in every aspect, and I tell all women never to surrender, never give up,
she concludes.